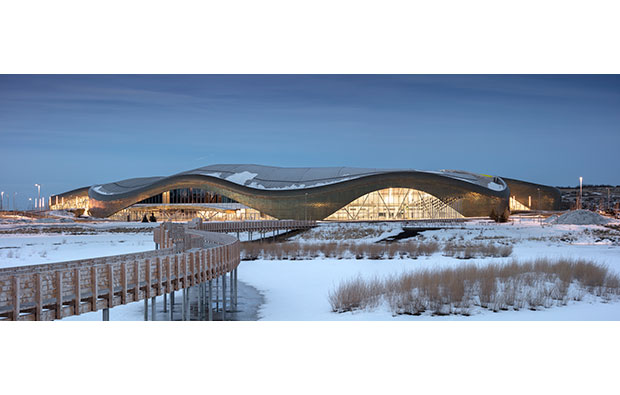 Shane Homes YMCA at Rocky Ridge

Calgary, Alberta
Category: Recent Work
Project Owner: City of Calgary
Architect/Interior Designer/Landscape Architect of Record: GEC Architecture
Structural Consultant: RJC Engineers
Mechanical Consultant: SNC Lavalin / Remedy
Electrical Consultant: SMP Engineering
Contractor: PCL Construction
Additional Consultants: Urban Systems (Civil), Entuitive (Building Envelope), Councilman-Hunsaker (Aquatics), Thermo-Carb (Refrigeration), ISL (Boardwalk Design), Mission Green Buildings (Sustainability), BTY (Cost), ARUP (Specialist Engineer)
Jury Comments
The YMCA building in Calgary was seen as a comprehensive and singular response to a very challenging and dynamic range of programs. The site planning, landscape design and architecture works seamlessly with each other to create a cohesive experience for the users of any of various recreational facilities. The undulating forms are reminiscent of the nearby foothills and the zinc cladding provides a beautiful soft reflectance from all nearby lighting. A well executed project.
●
Beautiful site planning that makes the building fit seamlessly into the landscape and mirrors the form of the landscape.
●
Expression of structure and architecture are nicely celebrated from the outside in. Careful choice of material palette provides neutral backdrop for the program elements to transpire upon. The peeling up of building skin focuses the apertures of interior view to the landscape beyond.
●
Beautifully set within a stunning site of rolling hills at the edge of the city, this project for the YMCA lifts the program right off the page, providing a level of ambition that is impressive and inspiring to see within the sports and recreational building typology. A pedestrian wooden bridge respects the wetlands and draws visitors to the long, horizontal sinuous building, elegantly subsuming the massive program into a magnetic gathering place.