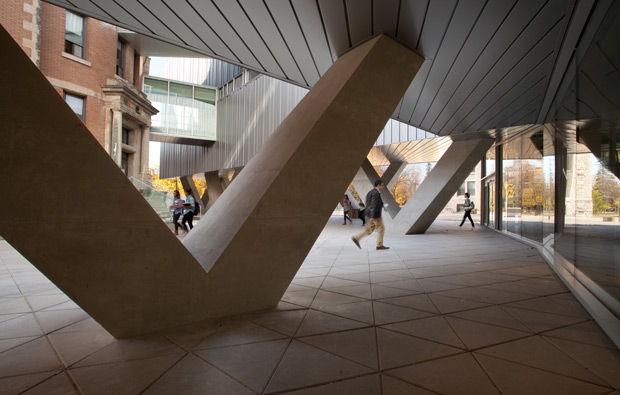 Award of Excellence
The University of Manitoba ART Lab

Winnipeg, Manitoba
Category: Recent Work
Architect of Record: LM Architectural Group
Associate Design Architect: Patkau Architects Inc.
Owner/Client: The University of Manitoba
Structural Engineer: Crosier Kilgour and Partners Ltd.
Mechanical Engineer: SMS Engineering Ltd.
Electrical Engineer: MCW/AGE Consulting Professional Engineers
Contractor: PCL Constructors Canada Inc.

The Project | Jury Comments
The project artfully unites the surrounding buildings through the insertion of a striking school of art against the backdrop of a former residence heritage building. The project is elegantly resolved through carefully considered massing, materiality and distribution of the functional program. A curtain wall-clad volume, supported on a series of V-shaped concrete columns, addresses a quadrangle located at the heart of the campus. Two levels of generously day lit studio spaces look over the campus to the north. The building program is distributed around a 4 storey open stair volume that serves as both a social mixing space and way finding device. The ART Lab is part of a larger ambition to unite the school of art with the school of music and other related academic programs. It also supports the adaptive reuse of a former student residence with new programming. As part of a larger university program to make better use of its existing building stock, this project has set the bar for campus building design into the 21st century.