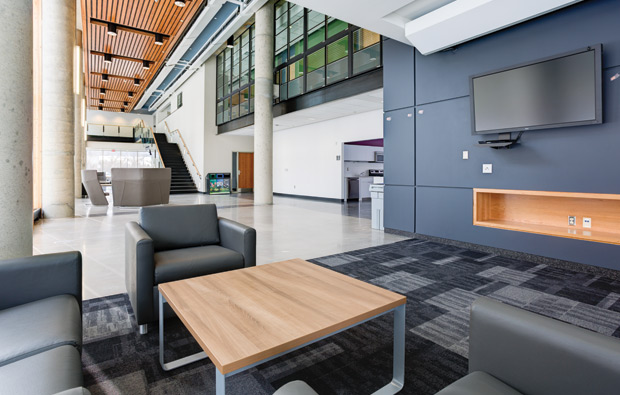 Award of Merit
Graduate House, University of Saskatchewan

Saskatoon, Saskatchewan
Category: Recent Work
Architect: Stantec Architecture Ltd.
Owner/Client: University of Saskatchewan
Structural Engineer: Stantec Consulting Ltd.
Mechanical Engineer: Stantec Consulting Ltd.
Electrical Engineer: Stantec Consulting Ltd.
Other Consultants: Turner & Townsend CM2R Inc.
Contractor: Graham Construction & Engineering Inc.

The Project | Jury Comments
The solution for this well thought out project builds upon "diversity and choice in the context of the collective". The program for the student housing includes a diverse range of unit types and amenities that is clearly expressed throughout the design. Amenity components are gathered at grade and strategically dispersed through the building, thereby extending the public program of the residence to the street level life of the campus. The building elevations are carefully considered and resolved in a Mondrian-like grid with a handsome composition of glazing, paneling and masonry that conveys a strong sense of residential scale and institutional ambition. The use of materials is carefully handled, with keen attention to detail for the exterior building volumes, as well as for the robust interior spaces.