Recent Works

Interior Design

Small Projects

Award of Excellence
Award of Merit
Submissions

Landscape Architecture

Award of Merit
Submissions
The Prairie Design Awards are presented in cooperation between: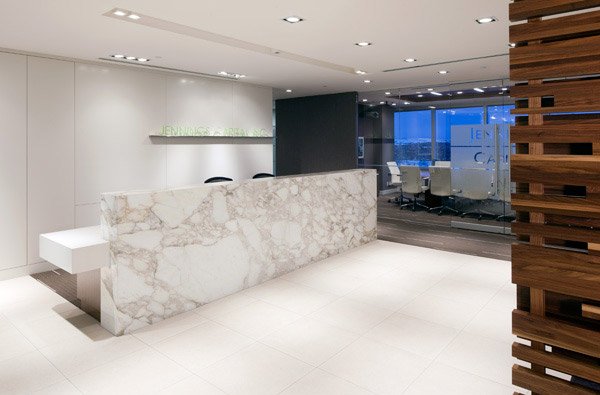 Award of Merit
Jennings Capital

Calgary, Alberta
Category: Interior Design
Licensed Interior Designer: Holly Shearer
Designer: Keng Oh
Owner/Client: Natalie Wutzke
Structural Engineer: n/a
Mechanical Engineer: Emans Smith Andersen
Electrical Engineer: n//a
Contractor: Labbe Leech
The Project
As a closing statement prior to retirement, Mr. Jennings, a mature, design‐savvy Client, relocated the offices of Jennings Capital Inc. to Jamieson Place, a prestigious LEED Platinum office tower in downtown Calgary. Designers strove to create an easy glamour. Clean white surfaces, glass and strategic lighting create a bright minimalist atmosphere, balanced by walnut sculptured walls. Glass entry doors allow a view to the grand Calataca marble reception desk, which captures the modern essence of this bright environment. Elegant, professional and responsive to Calgary's business climate, Jennings new offices are welcoming to clients and employees.